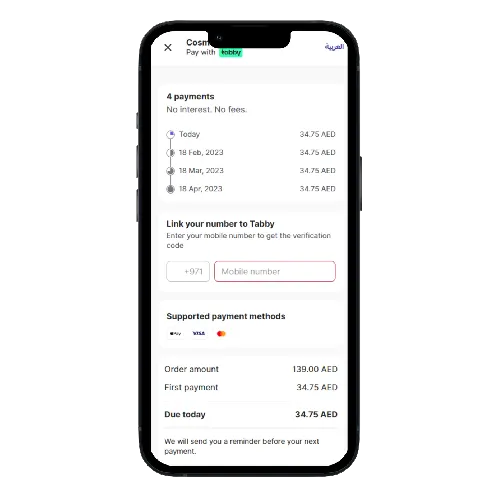 Split in 4 payments with Tabby.
Purchase your favorite Cosmoplast product and split your payment into 4. You can shop now, pay later, and earn cash – with no interest, fees, or hidden costs of any kind.
Shop Now
Flexible Payment
​Add what you want to your cart and choose Tabby at checkout. Sign up, link any card, and get approved instantly. Pay only 25% upfront and we'll remind you about the rest. Completely free, with no interest.

​4 Interest-Free Payments.

​Choose Tabby at checkout to split your purchases into 4 interest-free payments.

​No Interest or Fees.

When you pay on time, you won't be charged extra. Interest-free. No fees. That's all.

​Pick a Card, Any Card.

​Link any debit or credit card. Shop for what you love now and spread out your payments.
Frequently Asked Questions
How does split in 4 work?

When you Split in 4, Tabby will split your purchase into 4 equal payments. Tabby will collect the first payment when your order ships. The remaining 3 payments are collected every month. There's no interest, ever.
What happens if I miss a payment?

Tabby is committed to responsible spending which is why every purchase is carefully considered before they are approved.You will receive regular reminders before any due payments to avoid missing them.

If Tabby is unable to collect payments on the scheduled day, you will no longer be able to make purchases with Tabby until the dues are paid. Learn more about collection charges on our help center.
How do I make a return?

All refunds will be issued according to the store's policy for returns and cancellations. Once the store has registered your return or cancellation with Tabby, your refund will be processed.If you receive the refund in a form of a credit at the store, Tabby will continue to bill you for upcoming payments.
How and when will I receive my refund?

Refunds are made according to the store's return and cancellation policy. The amounts are processed as soon as the store registers the request for return or cancellation and Tabby begins the process of returning the funds to you.

Here's what you can expect from the recovery process with Tabby:

In case the refund amount is less than the remaining amounts, the remaining amounts will be adjusted accordingly.

In the event that the refund amount is greater than the remaining amounts, the remaining payments will be canceled and the remaining amount will be refunded accordingly.

How long does a refund take?

In the UAE, the amount is returned to the card used for the payment process. This will show up on your balance within 2 – 5 days, but could take longer depending on your bank.
Why was my purchase not approved by Tabby?

Tabby does not approve 100% of all orders as we are committed to supporting responsible shopping habits. We understand that it can be frustrating to be declined for purchase after being approved in the past. Tabby uses different factors to determine whether orders are approved and your spending limit may vary based on the store where you are shopping. Our Customer Service team is not able to change the automated outcome of the approval decision.